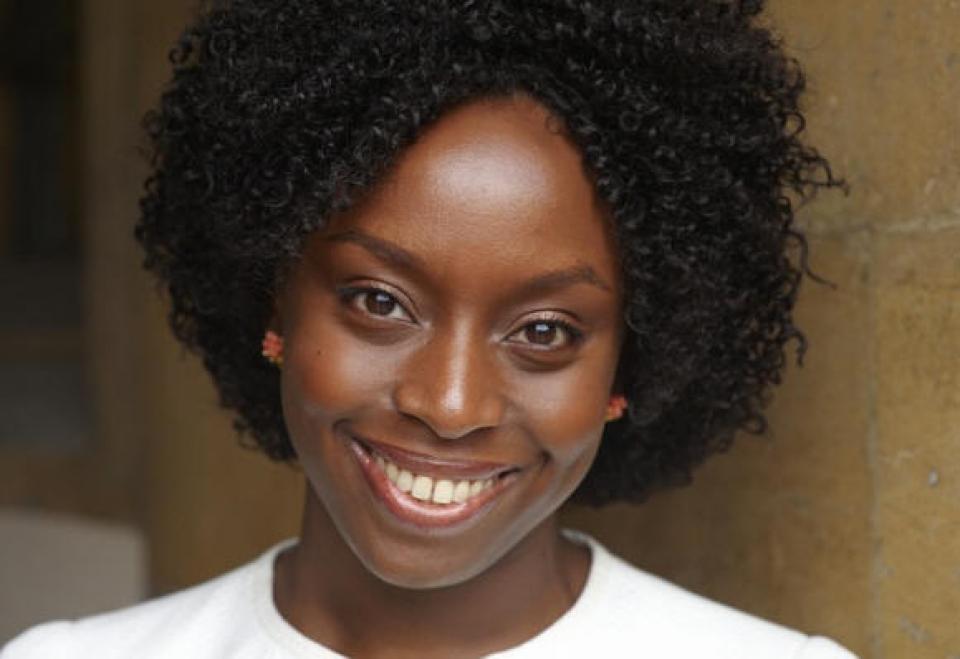 Chimamanda Ngozi Adichie: "Le type de féminisme de Beyoncé n'est pas le mien"
Submitted by Consultant Nū on Wed, 10/12/2016 - 14:11
Article paru ce mois-ci dans le magazineFor Harriet
Avant même que Beyoncé n'utilise un extrait de sa conférence TED dans son titre à succès "Flawless" en 2013, Chimamanda Ngozi Adichie était déjà un auteur acclamé. Elle avait publié "Half of a Yellow Sun" (L'Autre Moitié Du Soleil) et Americanah, qui remporta le National Book Critics' Circle award.
Mais, d'une manière ou d'une autre, ses réussites demeurent toujours liées à la star. C'est devenu une source de frustration, d'après ses dires dans une interview récente pour le journal néerlandais de Volksrant. Mais Adichie a tenu à préciser qu'elle apprécie le travail de la chanteuse.
"En premier lieu, bien-sûr que Beyoncé m'a demandé la permission d'utiliser mon discours, et je la lui ai donné. Je la trouve adorable et je suis convaincue qu'elle avait alors les meilleures intentions. De plus, Beyoncé est une personnalité de premier ordre et avec cette chanson, elle a touché beaucoup de personnes qui autrement n'auraient certainement jamais entendu le mot "féminisme", et seraient encore moins sorties pour acheter mon essai."
"Mais j'ai été abasourdie du nombre de sollicitations pour une interview que j'ai reçu quand cette chanson a été lancée. Littéralement, tous les journaux les plus importants du monde voulaient s'entretenir avec moi au sujet de Beyoncé.
J'ai eu tellement de ressentiment (rires). Je me suis dit : Les livres ont donc si peu d'importance pour vous ?
L'autre chose que j'ai détesté fut de lire partout : à présent, les gens la connaissent enfin, grâce à Beyoncé; ou elle doit être reconnaissante. J'ai trouvé cela décevant. J'ai pensé : Je suis écrivain, et je l'ai été depuis un moment et je me refuse à participer à cette mascarade dans laquelle on semble m'attendre aujourd'hui : Grâce à Beyoncé ma vie ne serait plus jamais la même. Voilà pourquoi, on n'en a pas beaucoup parlé.
En dépit des critiques qu'elle a reçu pour sa manière de pratiquer le féminisme, Adichie ne cache pas son admiration pour l'orientation politique de la star :
"Son style n'est pas le mien, mais je trouve intéressant qu'elle prenne position sur des questions politiques et sociales depuis quelques années. Elle figure une femme responsable de sa propre destinée, qui fait son truc et elle détient le pouvoir des femmes. Je suis très sensible à ça."
"Cela dit, son type de féminisme n'est pas le mien, dans la mesure où il est en même temps, le type (de féminisme, ndlr) qui donne encore un peu trop d'espace à la nécessité des hommes. J'adore les hommes mais je ne pense pas que les femmes devraient relier tout ce qu'elles font aux hommes : m'a-t-il blessée, dois-je lui pardonner, m'a-t-il passé la bague au doigt ?
En tant que femmes, nous sommes conditionnées to relier aux hommes. Mettez un groupe de femmes ensemble, et la conversation tournera finalement autour des hommes. Mettez un groupe d'hommes ensemble, et ils ne parleront pas des femmes du tout, ils ne parleront que de ce qui les concernent. Nous, les femmes devrions consacrer à peu près 20% de notre temps aux hommes, parce que c'est amusant. Mais autrement, nous devrions aussi discuter de ce qui NOUS concerne."